Affiliate links linking to products we love may be found within this article. For more info, please check our Disclosure page for more explanation of affiliates and sponsorships.

---
Looking through some photos of a trip to Japan, I want to know a little more about the beach we walked along after a nice day in Japan's first feudal capital. My wife took a photo of a stranger in a mirror and upon seeing that again, I looked into the beach only to find its name. I never realized that this beach hosted so much bloodshed and even a very famous botched execution. Let's go back to that day walking around Yuigahama Beach in Kamakura.
Stories Behind Yuigahama Beach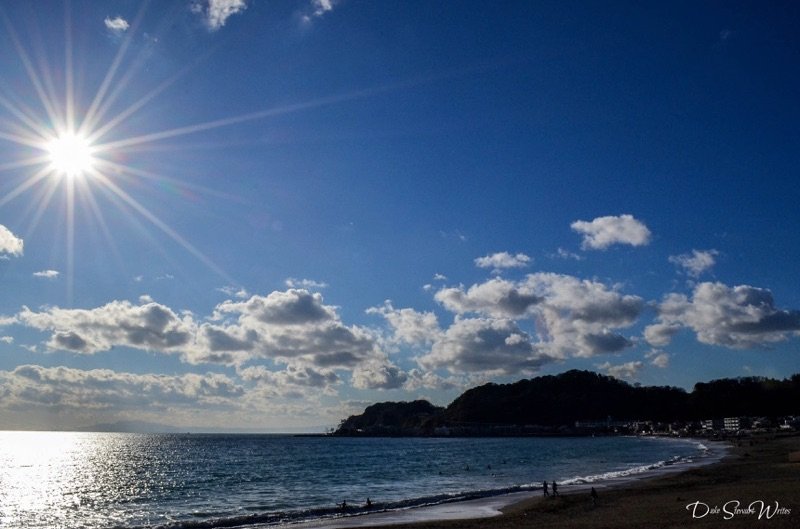 This travel guide is part of our series on Japan Travel and East Asia Travel. It was originally created on April 22, 2015. It has been maintained and updated (as of December 28, 2018) to reflect current viewpoints and travel trends.
Walk to the Beach
We finish walking from Hase Dera Temple and arrive at Yuigahama Beach, without realizing there's more behind this quiet and picturesque patch of sand. It all goes back to a time long forgotten by many, except for the waves of tourists who come here each year. Kamakura's historical traditions have remained well-preserved, with the Daibutsu nearby and so many wonderful temples within close vicinity. It's hard to believe that this beach was once viewed as sacred and was once the scene where a popular religious leader escaped from the jaws of death.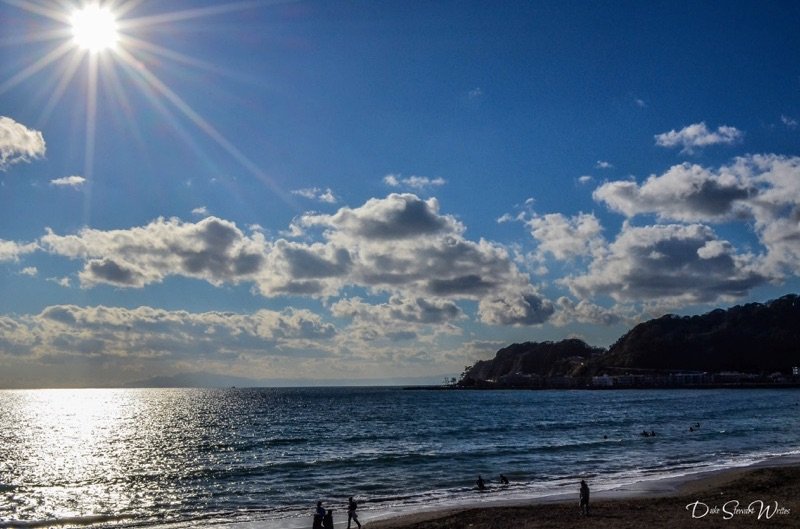 Holy Ground and Nichiren's Escape
During the Kamakura Period in Japan (1185-1392), Yuigahama Beach (then Maehama) was highly regarded and considered hallowed ground. Shoguns would cleanse themselves at this beach before venturing out to shrines and other religious sites throughout Feudal Japan. When the Kamakura government was nearing collapse, the beach transformed into a battlefield and witnessed enough bloodshed so that human remains are still occasionally found.
Millions of Nichiren Buddhists know about the founder's serendipitous escape from execution (1271) and it's a fascinating story to retell. He'd developed a reputation for badmouthing other orders of Buddhism and the rulers at the time decided to stop him through the sword. Luckily, a highly devoted follower intervened and put himself on the line for Nichiren. This act spared the leader's life and as a result, assumed his "true identity" as Buddha.
.
A Picture Worth Words
We walk away without a clue about the history and interesting folklore behind Yuigahama. Thanks to the stranger in the mirror, I'll eventually learn a fascinating story and learned that a simple beach was more than that. That's the wonderful thing about history. It's always there. We just have to find it. How many more places are there like Yuigahama Beach? There must be tons of them, full of stories many of us don't know about.
What's yours?
Read more Japan travel stories and guides and take your imagination there!
---
Getting to Yuigahama Beach
Courtesy of Kamakura Visitor's Guide
Yuigahama Beach is a 15 minute walk from either Kamakura or Enoden Stations. We walked from the Hase Dera Temple and it took about 15 minutes from there as well. I'd go the latter route and enjoy scenic views of the railroad as well as the nice little town that overlooks the water.