Affiliate links linking to products we love may be found within this article. For more info, please check our Disclosure page for more explanation of affiliates and sponsorships.

---
So you've decided that Seoul is the next place to visit, but don't know where to start? You first need to decide where your base camp will be after stepping off the plane at Incheon International Airport (p.s. I have also written a guide to that spectacular place). Overwhelmed? Don't fret because we're here to help with 5 Seoul tips to enjoying your stay in this awesome Asian city.
5 Seoul Tips When Planning Your Trip
Reaching your Hotel
Getting to your room is easy as long as you find the right way to get there. Taxis ($50-100, depends on destination) and buses (starting at $5) are right outside the arrival gate with the latter leaving often, depending on where you're staying. If you're interested in going directly to Seoul, then walk to the Airport Railroad desk (10 min. from Arrivals) and the nice staff there will help you will acquiring a $4 local ticket or $8 express to Seoul Station.
Traveling in Seoul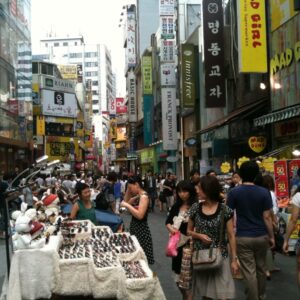 Traveling in Seoul is super easy and doable via taxi if your destinations are close enough together. Regardless of how you travel, pick up a transportation card (T-Money, M Pass, or Seoul City Pass) and as long as the card is filled up, there's no need to buy a ticket or deal with cash when riding public transport.
Keep in mind that the subway stations and other Seoul hotspots become very busy during morning and evening rush hour. People will push you if they are in a big enough hurry, but it's nothing personal. Seoul is a big city but you couldn't have chosen a friendlier group of people to visit.
English is Nearing Lingua Franca
Koreans are very proud of their own language, but English is certainly growing in prevalence. Pick a spot in the city and the amount of English-capable speakers around will surprise you with just how prevalent its usage is in Seoul. You'll overhear people speaking on the subway and will sometimes wonder if you ever left home.
You might even have someone offer to help if you look or seem lost. Venturing away from Seoul and the other big cities, English-speaking locals will dwindle so keep that in mind if day tripping away from the capital. Don't worry though; dialing 1330 on your phone will fetch an English Help Line that will help you when there are no helpful locals around.
Narrow it Down
Name it and Seoul probably has it in abundance. It's a massive city with neighborhoods dedicated to just about any type of food and entertainment so think about why you are coming. If you're a shopaholic, then you'll find heaven in the areas around Myeong Dong or Dongdaemun. Adventurous foodies will love Gwangjang or the Noryangjin Fish Market. History and culture enthusiasts will flock to the Joseon Dynasty-era palaces and festivals happening throughout the year. The "to-do in Seoul" list is ever-growing so plan ahead and you won't be disappointed. Kick back and relax, because you are getting ready to see an amazing city.
Photo Credits via Trover – 1. Melanie Choi  2. Kenichi Kubota. This Seoul travel guide is part of our series on South Korea Travel and East Asia Travel. It was originally created on February 8, 2015. It has been maintained and updated (as of December 28, 2018) to reflect current viewpoints and travel trends.