Of all the places I've visited in Kyoto and Japan as a whole, the Fushimi Inari Taisha (shrine) ranks up there as one of the best. I'd totally neglected them in past visits to the city. Thankfully, we had just enough time to get out there one morning before leaving Kyoto and I recommend everyone else should do the same. As I always say, get there early and you'll be able to avoid the crowds before they arrive! Here are 13 photos from the amazing Fushimi Inari Taisha in Kyoto.
Fushimi Inari Taisha
Arrival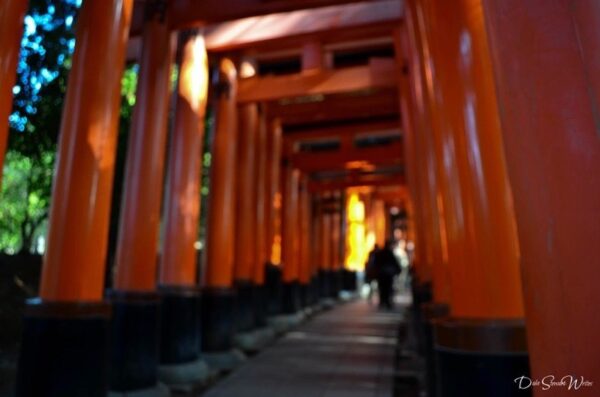 We hop off the train (JR Inari Station) in the A.M. and after a short walk past the entrance donated by Toyotomi Hideyoshi (1589), there they are. There are literally thousands of them.
Background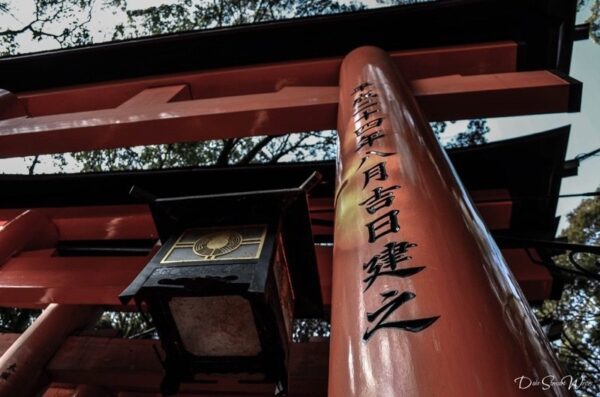 This is apparently the headquarters for the over 40,000 scattered through the whole of Japan. The 10,000 found at Fushimi Inari Shrine are always open to visitors and free admission so our yen will be going towards something else today.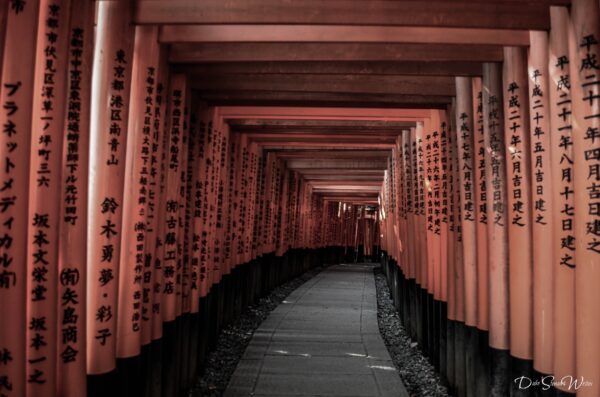 Each Torii gate has a different message written in Kanji. About $4,000 will get you started toward purchasing a smaller shrine. Even if lots of people come to see the Fushimi Inari Shrine, it's still possible to get a few photos that make it look empty.
Offerings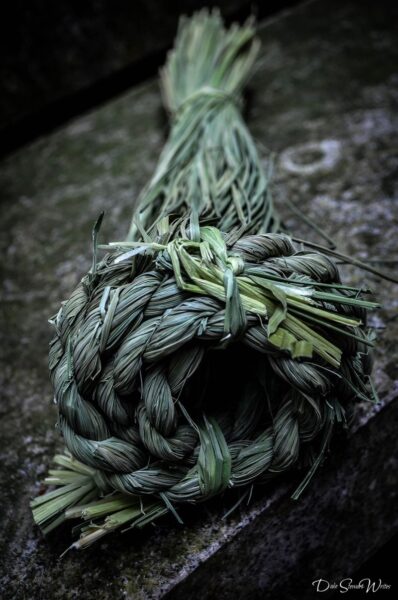 Along the way, there's a series of stone shrines with various offerings including rice straw rope. Even something placed on the ground has a purpose.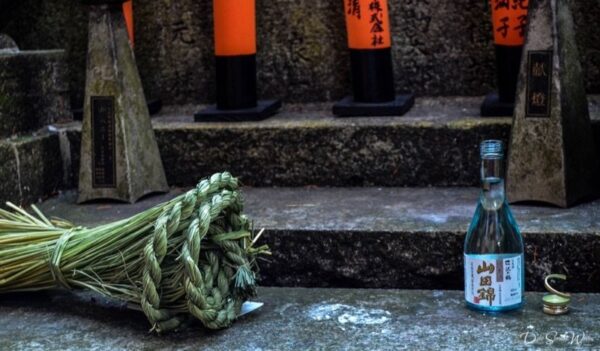 Some sake to go with it? I'd be happy if this were my shrine. These offerings and the complex date back to the 8th century and honor the Shinto god of rice named Inari.
Paper Cranes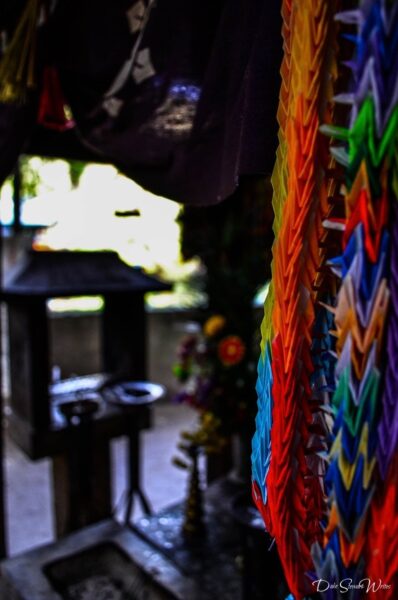 We find all sorts of paper cranes along the way and remember Sadako, the girl from Hiroshima who lost her battle with Leukemia after the atomic bomb.

Before becoming synonymous with Sadako, the crane was long known as a symbol of good health, longevity, and associated with good character.
Prayer Candles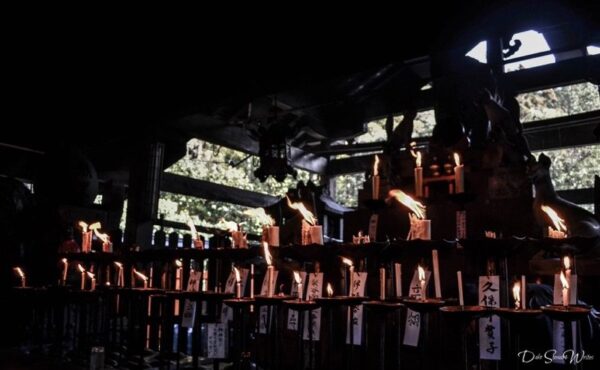 Many people light candles to pray for loved ones, their job, or whatever they want. Lighting candles via another candle is the way to go and there are so many lit by the time we arrive.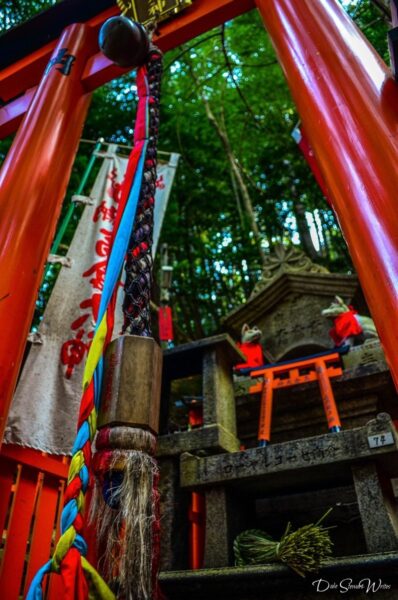 I know there's a lot of meaning for each section of the shrine but the colors just blow me away here. I love seeing them all come together in this shot by Christina.
Portrait Attempts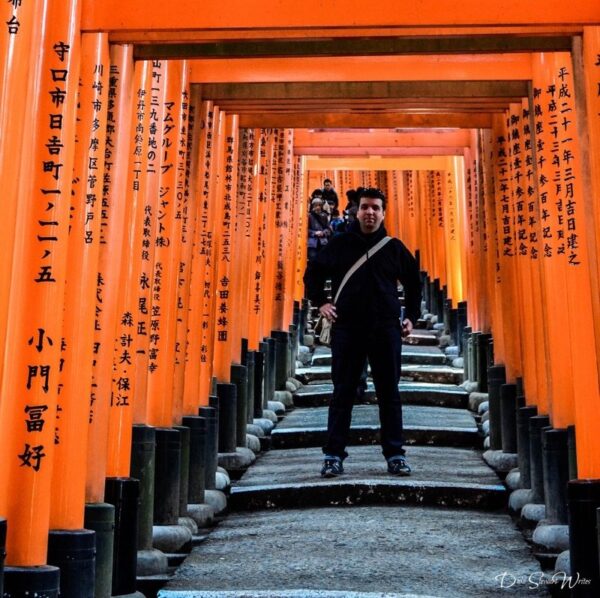 Lots of winding turns and curves but lots of people are around when I have that obligatory portrait within its walkways. I was hoping for something similar to Memoirs of a Geisha but standing straight and center works too.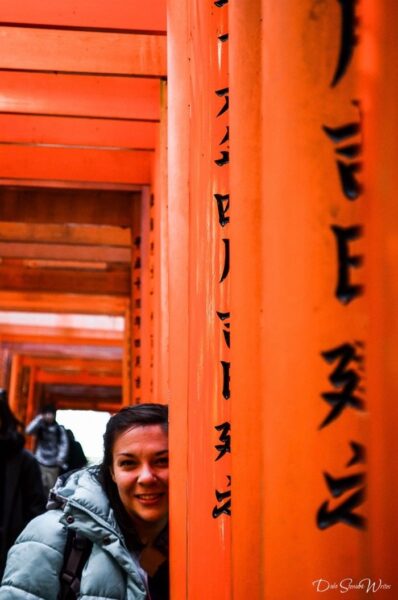 Christina gives me the camera for a minute to get a few shots of her. Trying to squeeze the other people out, I come up with this.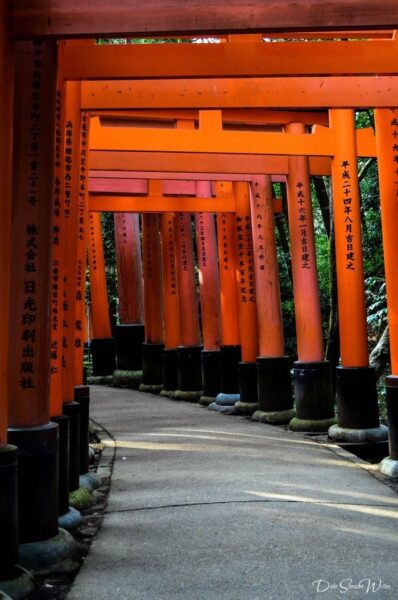 The only thing I wish for is more photos of the Inari foxes found throughout the complex. They serve as the messenger of Inari and easy to spot, wearing red.
Food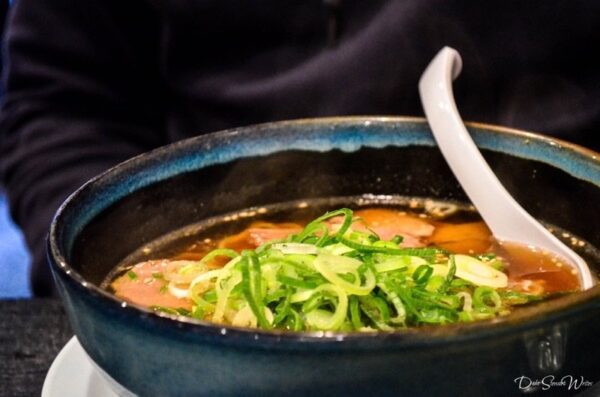 After the walk, you'll definitely work up an appetite and we decide to cure ours at a tiny ramen shop just outside. Many people go for Kitsune Udon but when I'm in Japan, finding ラーメン either printed horizontally or vertically trumps any other meal in sight!
There's only so much of the day left and we've got a train to catch after all that ramen and hot sake that didn't make the picture in time before I drank it all. Our photo walk through Fushimi Inari has finished and all I can think about is why I want to go back to Japan. Someday, that will happen and we will get to stay in Kyoto, walking around its awesome temples. Maybe. Definitely.
Fushimi Inari Taisha background info came from the links I've provided along the way. What did you think of this walk through a really special shrine? Ever been? I'd love to read your thoughts in the comments section below:) 
DISCLOSURE: I may be an affiliate for products that I recommend. I only recommend things that I've tried and loved and that's why I want to share them with you. If you purchase those items through my links I will earn a commission. You will not pay more when buying a product through my link. In fact, I oftentimes am able to negotiate a lower rate (or bonuses) not available elsewhere. Plus, when you order through my link, it helps me to continue to offer you lots of free stuff. Thank you for your support!
Affiliate links linking to products we love may be found within this article. For more info, please check our
Disclosure page
for more explanation of affiliates and sponsorships.