Affiliate links linking to products we love may be found within this article. For more info, please check our Disclosure page for more explanation of affiliates and sponsorships.

---
Jeri Walker is an ass-kicker in my book. After reading this interview, you're going to file her away as one in your own. I've e-known her for almost four years and she was one of the original guest posters who came on board, as Jeri wrote about why people travel to not miss out on life's finer things. She's gladly answered my questions about writing and the business that surrounds it. I've always wanted to talk more about life beyond the work with Jeri Walker and thankfully, she's here to answer some of my questions.
People Who Travel: Jeri Walker
on Kicking Ass, Writing, and Curveballs

Making Every Word Count
What does it mean to make every word count? 
Making every word count is a way of life and what any client can expect from my editing services. At heart, I'm a minimalist. I've always enjoyed getting by on essentials. To strip any context down to its bones is a surefire way to strengthen its structure and see what's truly needed to keep it alive. Words are no exception. To truly sing, writing needs to be a well-oiled machine, not full of distracting fluff.
Don't get me wrong. I am a huge advocate for writing badly. It's also a given the writing process is not a one-size-fits-all scenario. Some people are pantsters and others outliners. Many fall somewhere in the middle. I excel with assisting writers in copy and line editing. Rearranging paragraphs and sentences is my greatest pleasure.   
I also enjoy critiquing completed manuscripts as a developmental editor. On the other hand, substantive editing and book coaching are not my forte. When it comes to making my own words count, I have applied for a writing grant. I'll know in June if I will receive funds to hire a book coach to help me write my memoir. So yes, even the editor needs an editor.
Twists and Turns
Any twists and turns in your career before now that you'd like to share? 
I became self-employed as a book editor by happy accident. After a decade in the education field teaching college composition and then English and creative writing to high school students, I found myself transported to the other side of the country for my ex's new job. I gave myself one year to write my first novel (Interviewer's note: Jeri has published more) and like all diligent authors trying to build a platform, I started a blog.
The novel crashed and burned, but in the process of posting critical book reviews, I received my first editing inquiries. Some people would warn that a former English teacher is not necessarily equipped to be a good editor, but my background goes deep into graduate and undergraduate writing critique workshops for fiction, nonfiction, and poetry. My studies in the field of rhetoric and composition have also allowed me to draw on my knowledge of commenting styles to give appropriate feedback.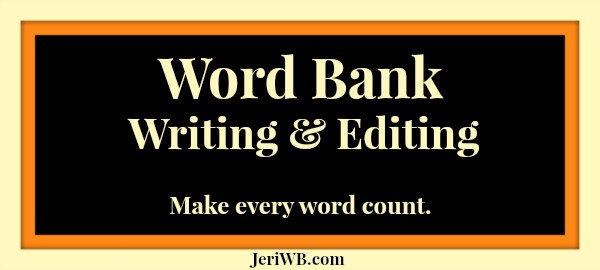 Before I could even write, I would tell stories to anyone who would listen. In this case, the audience typically entailed my stuffed animals. A couple of decades ago when I was in college, I had no idea how a girl attending college in Idaho could become a book editor or a literary agent. In so many ways, the rise of independent publishing has opened up a new world where my skills can beautifully serve others. I may not have a New York City literary pedigree, but I do shine up quite nicely compared to a lot of the competition!
Her Inspiration
Who do you look to for inspiration in the writing and editing world? 
I take a lot of writing inspiration from authors such as Alice Walker, Annie Proulx, John Steinbeck, and Cormac McCarthy. Realism will always be the genre that most fascinates me, though memoir comes in a close second. No matter the genre, writers need to read widely and deeply. It floors me how many so-called writers don't read much at all.
In the editing world, I've drawn on both online and offline sources for mentorship. It would be impossible to list all the writing and editing blogs that I follow via RSS in Feedly, but suffice to say, a bounty of information exists for those who seek it, and I curate a lot of great content to post on Word Bank's Facebook page.
Locally, I've found it inspiring to be involved in the Boise chapter of the Nonfiction Authors Association with Cristen Iris. She is also now the national chapter leader and founder of the partner-publisher Red Cricket Press. I am learning a lot from her. I'm also excited to be starting Strategic Success Mentoring with Stacy Ennis. Growth opportunities abound if a person isn't afraid of the undertaking.
Curveballs
What's going on with JeriWB.com right now? 
Life likes to throw curveballs, and sometimes those curveballs come in the form of medical nightmares. In my case, this has been a breast cancer diagnosis this year at age forty. My regular clients have been great in allowing extra time for projects to account for the random days of fatigue chemo causes. I still welcome new clients, but I am understandably a harder sell right now.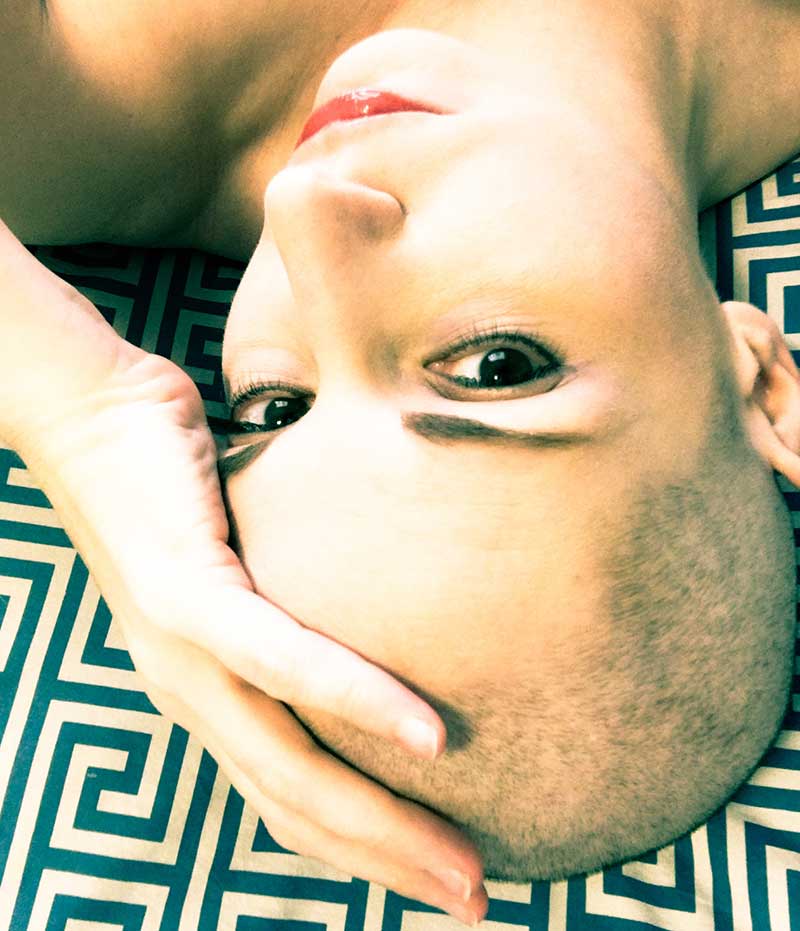 I've cut down to two blog posts a month, one writing-related post and one author interview. My monthly newsletter is now quarterly. Truth be told, writing for my business has always taken away precious time from my own creative writing. Blogging is definitely good for business as I connect with many writers via blog comments and the author interviews. Sometimes, something's gotta give. I can still be effective, albeit on a smaller scale as I continue to build that all-important email list of contacts.
One recent change is shifting from monthly to quarterly promotional discounts. The code is only available via my newsletter. Tax time is also quite daunting for the self-employed. I've revisited my rates and have opted to discontinue my loyal client discount. As someone who supports herself entirely as a freelancer, I have to ensure I am working for a living wage. Current and potential clients can still take advantage of promotional discounts if they keep their eye out. I also offer a small referral discount to clients who refer others to me.
Advice
Any advice you'd have for someone who thinks they can't be a badass like you are?  
Self-employment is not for the faint of heart. It's best to make the transition slowly and build up experience and contacts. I made so many right moves, but just when I had projects booked three months in advance for the first time ever, cancer reared its ugly head.
I was hesitant to start a GoFundMe campaign, but it never hurts to ask for help. Thankfully, I am covered under the Affordable Care Act, but as a one-woman show, my financial situation is indeed precarious. The one thing I can give back to those who donate is my words.
I'm updating the Abandoned Boob Chronicles once a week. It's taken cancer for me to heed the call that I am most at home writing creative nonfiction. Authenticity has always been my forte. A year from now, I will have over 50,000 words I can fashion into a book about my breast cancer journey. Plus, by that point, I am going to be able to say I've kicked cancer's ass.
Abandoned Boob Chronicles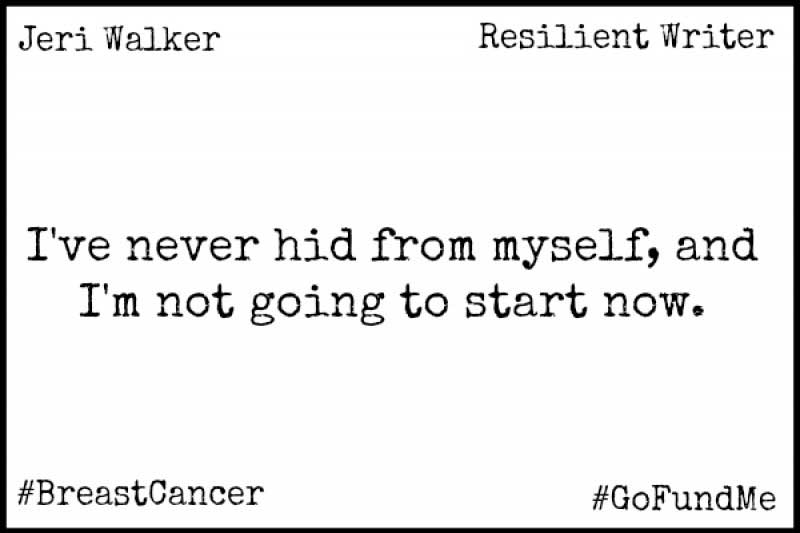 I'm looking forward to that day when I can talk to Jeri Walker after she's kicked cancer's ass. Make your words count by helping her GoFundMe campaign and if you can't donate, please spread the word about it via word of mouth and social media. Every little bit helps and we need people like Jeri to continue making their own words count.