Affiliate links linking to products we love may be found within this article. For more info, please check our Disclosure page for more explanation of affiliates and sponsorships.

---
There would be no cloud-nine days without rock-bottom moments left below. ― Richelle E. Goodrich
Hitting Bottom when Living Abroad
I always like to write and focus on the good side of life abroad, because how else would I justify being away from friends and family for so long? Newsflash! It's not all wonderful. There's a darkness that arrives in many forms, from loneliness to anger and resentment.
Where does it come from? How do I come to question my motives for leaving, to the brink of packing up and going back home? Being away, it's easier to hit the bottom of my dark well and ponder all that's gone wrong in the recent past. So many questions come up and answers seem impossible to find and after dwelling on the bad times, I have no choice but to pick myself up from the ground.
It's something I can't avoid, or else I'll descend to the depths of apathy and despair. We must face our problems, even if they seem too difficult to overcome. I started thinking about this during a recent visit to our former home in Korea's Gyeongsang Province.
Reliving the Tough Times
A Sunday drive back to an old haunt knocked a few memories to the forefront. Some were hard to face, but that's the point of overcoming the anger and frustration. Avoiding it would only drive me insane, and a variety of emotions came out during our walk along the Nam River in Jinju.
This was our home for roughly 15 roller coaster months, where we learned some harsh yet useful lessons. The first and more important one had to do with trust, and how much I would thereafter put into someone who owned my visa and life in a foreign land. Is it possible that so many evil traits lie within one person?
Hitting Bottom, Baby Steps Up
After many bouts over lots of lost income, we actually taught for the entire duration of a lengthy contract before temporarily saying goodbye to Korea. It almost seemed like we were leaving with our tails tucked behind us. Phone sessions with family hangouts with friends quickly veered into complaints about Korean society, culture, and everything else that rubbed us the wrong way.
We'd hit bottom. It was time to get away.
Even inside that dark well full of terrible thoughts and feelings, there was some discoverable gold. Some valuable lessons and accomplishments came about while dealing with this hell of a job and existence. My wife had started her journey towards a better, fitter life and I had continued helping the community in Gwangju that kept me busy when free time offered itself. These were baby steps towards the happy life that we know now.
Thanks to our time spent in the job from hell, we hit bottom while living abroad…but we picked ourselves up.
Takeaways
There were wonderful people whose wisdom and friendship I miss on a daily basis. The city was near some beautiful places, and we started to learn that the bad times only occurred during the bad part of the week. Sharing them with such wonderful people made the problems go away, but only for the moment. We couldn't ignore them, and had to face our issues. Sometimes it's easy to paint a rosy picture even in the worst situations.
Life abroad isn't always the best and that's something people should realize. Sometimes, everything will fall apart and there won't be too many people in your corner to help. Taking a step back and just enduring is probably the best way to grow and learn from such an experience. Perhaps that's the biggest lesson that we took away, and revisited during this recent trip. Overall, we looked back on Jinju with regret but that's not the whole story.
Looking Forward, Up
We learned so many things from this small city, coming out of it with lots of ideas and aspirations for round two. Yes, we somehow came out of the nightmare wanting more of Korea. Going home first was a must, as we had to recharge and look for better jobs. More importantly, we were getting married and taking the next step in our commitment to each other.
Looking back on Jinju was hard until that recent visit, but things seem so much clearer now. I owe a lot to our time there, and think that it was a necessary step along the way in our journey. I had to encounter that nightmare scenario and doubt each coming day in order to grow and become the person that I am today. I needed that time, even though there are parts I'd love to forget. I had to learn from hitting bottom in order to reach the top.
Thank you, Jinju. I needed you.
Have you ever hit bottom? I'd love to read your story in the comments below!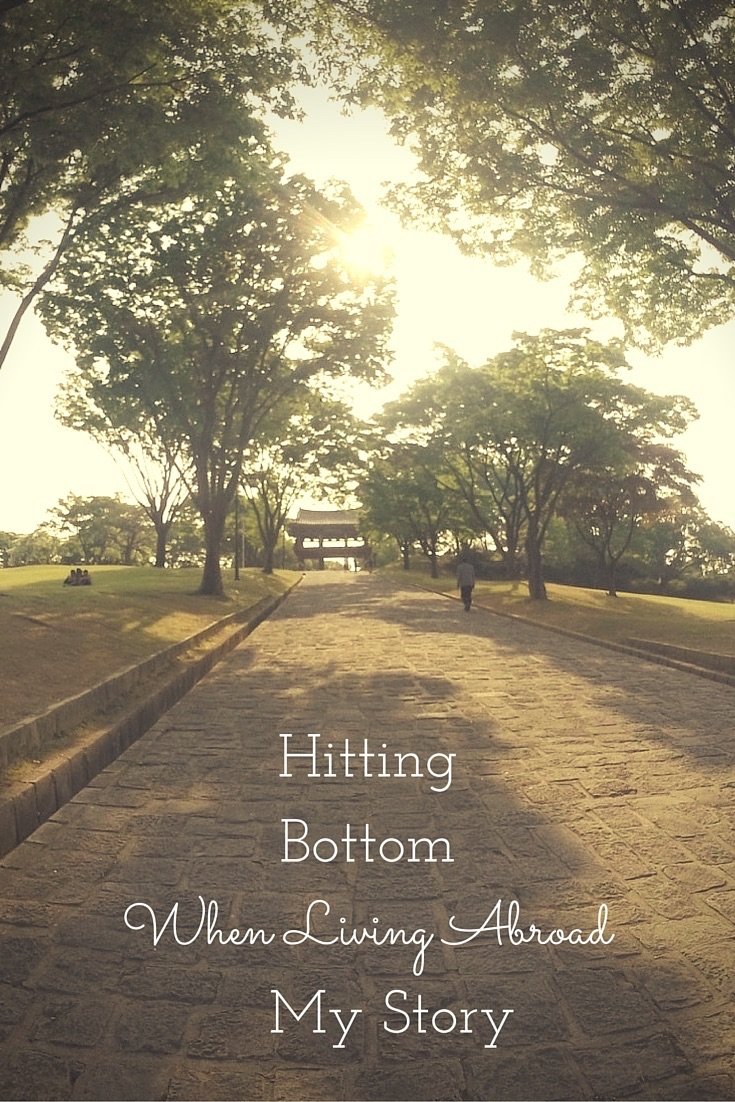 Pin and Share!