Affiliate links linking to products we love may be found within this article. For more info, please check our Disclosure page for more explanation of affiliates and sponsorships.

---
Opened in the year 2010 and laced with picture-perfect views, the Indian Ocean Drive is one of the most phenomenal coastal roads in Western Australia, a drive through which is enjoyed by every traveler across the world. Stretching from the coastal town of Lancelin in the South to Dongara to the North, the Great Ocean Drive plays a host to some of the most exciting and beautiful road trips in Australia.
Even though we are from Perth, it took me so long to arrange a road trip to explore the Indian Ocean Drive, wherein my entire family can accompany me. When I told my wife that we are going on this trip, the way she got excited is beyond description. On top of that my son, who was just 5 years old when we arranged this trip, enjoyed that soothing journey like anything.
The Indian Ocean Drive
Perth
Right after having breakfast in the morning, we headed off to Yanchep, a beautiful coastal suburb that is located north of Perth. In order to reach Yanchep quickly, we took Mitchell Freeway as well as Wanneroo Road and reached this place within an hour. Yanchep is an excellent place to discover extraordinary beaches, incredible woodlands, and beautiful wetlands etc. Since we love outdoor adventure, it proved to be a fantastic place for us too when it comes to spending the time with outdoor activities like hiking, walking, and birdwatching.
Yanchep National Park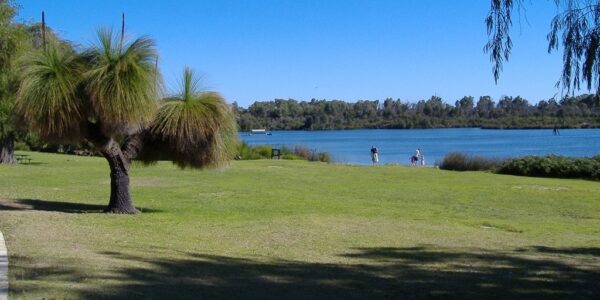 After reaching Yanchep, we traveled to Yanchep National Park, which can be reached within 10-minutes from the town. This park is a remarkable place to explore Australian wildlife (including quirky plants, unique trees, koalas, and kangaroos etc.) and aboriginal culture. In addition to that, it is also a great place to carry out cave tours and to explore beautiful heritage sights. Nine walking trails are available to explore the Crystal Cave, which remains open for tourists every day. On top of that, if you are a foodie, you must try the dishes offered by the canteens and restaurants located within Yanchep National Park.
Cervantes
After discovering the Yanchep National Park, we finally took the Indian Ocean Drive and headed off to Cervantes, a lovely fishing town which is approximately 198 kilometers away from Perth. Because of its beautiful landscapes, delicious coastal cuisines, and warm people, Cervantes remains a great weekend escape for the tourists from Perth and hence we were no exceptions as far as enjoying the attractions offered by this town was concerned.
Pinnacles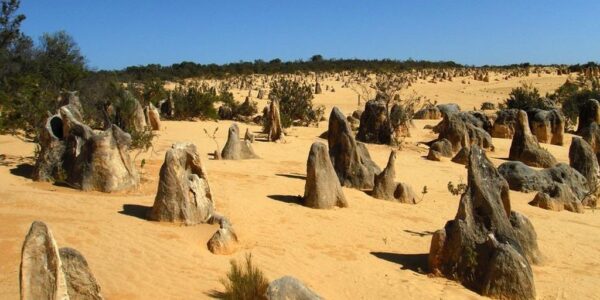 Right after exploring the town of Cervantes, we started traveling towards the Pinnacles, one of the most iconic attractions offered by Western Australia. Pinnacles which sit peacefully within Nambung National Park, are visited by millions of people each year. These incredible limestone structures, which look great during sunset were enjoyed by my wife and kid greatly. In order to get comprehensive information about these limestone formations, we visited Pinnacles Desert Discovery Centre. We also enriched our knowledge about the wildlife found there.
Lake Thetis
Located on the east of Cervantes, Lake Thetis is a must-visit if you are following the Indian Ocean Drive. When we started our journey, we were quite clear on it that we will definitely travel to this lake. After exploring the dry and sandy Pinnacles Desert we found it quite refreshing to visit a peaceful lake and soak ourselves in its crystal clear waters. Since both I and my wife were tired of driving, we decided to take a walk near the lake and enjoyed its beauty. It's also an incredible place if you are interested in knowing about the ancient living fossil on the planet.
Jurien Bay & Dongara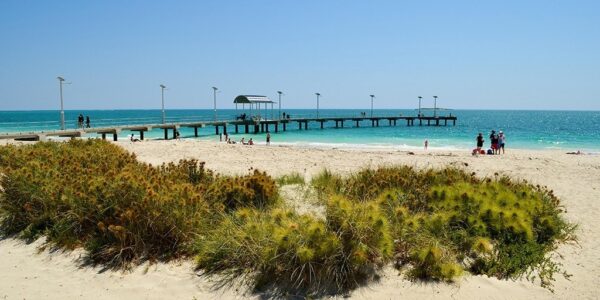 After exploring Lake Thetis, when we started our journey towards the north, we found many incredible places like Jurien Bay, the Lesueur National Park (wherein you can see approximately 900 species of flora), Jurien Bay Marine Park and Stockyard Gully National Park. We felt great when we finally reached Dongara, a town near the Irwin River. After having our dinner, we went to the hotel that we had booked well in advance to stay overnight in the town.
Geraldton
When we got up in the morning, we saw all the beautiful attractions in the town of Dongara and then again started our journey up north to Geraldton. Before we actually reached Geraldton we saw many beautiful places on the way, which made our trip even more interesting.
Our Thoughts and Yours
Our road trip from Perth to Geraldton was full of adventure and it will be cherished by us throughout our lives. What did you think of this trip? Ever tried it? We'd love to read your thoughts in the comments section below:)
Featured Image: Flickr/perthproductions