"Whenever elephants met men, elephants fared badly." – Carl Safina, Beyond Words: What Animals Think and Feel
Elephant Tourism that Does NOT Involve Riding
I can't think of this quote with a smile as we plan our trip to Thailand. It's impossible to think past this country's wonderful natural beauty. Elephant tourism is one thing that threatens this great country's reputation and I ponder that from our room in Chiang Mai. Soon after checking into a nice backpacker hostel near the Old City's Nong Buak Hard Public Park, we get a whole variety of tours thrown our way. I'm not really a tour person but we mention elephants and our ever-eager hotelier nudges us towards a lesser-known camp that could use the support. We ask her at least five times if this is the bad kind of elephant tourism because if so, they can have someone else's money.
The Elephant Tourism Industry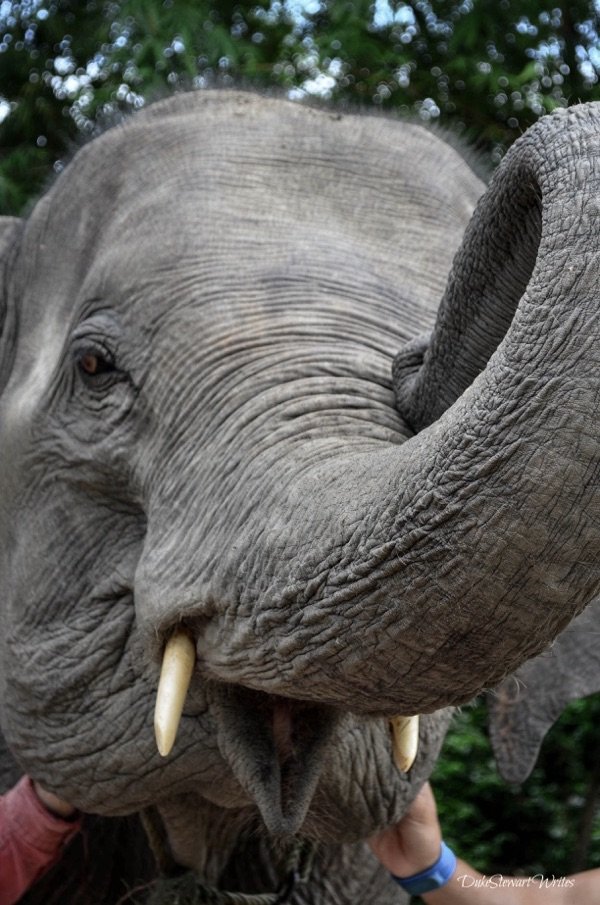 Thankfully the Elephant Retirement Park is one of only two in the Chiang Mai area that doesn't offer rides. Some people might have different views on the elephant tourism industry, backed by anecdotes and testimonies from the camp owners themselves. The things we see and hear on our day with the elephants convince me that a life of riding is not in the best interests of these animals. If one wants to play with elephants while giving their backs and bodies a break, travel to places like the Elephant Retirement Park. Your heart and soul will feel better as a result. This story will detail a more fulfilling experience than any ride will ever offer.
Ding Dong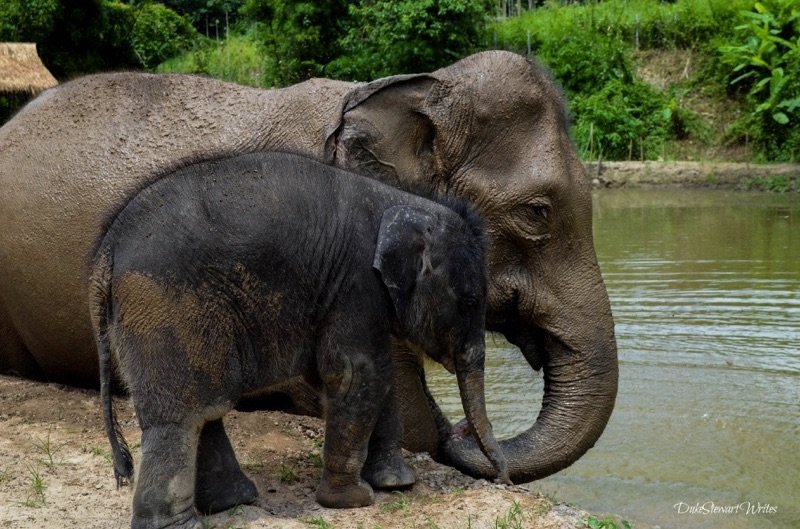 After a night getting acquainted with some wonderful fried rice and walking around Chiang Mai's Old City, our hotelier reminds us that a van will be here bright and early. I pound a cup or two of coffee before a man walks into the open-air lobby and introduces himself. Ding Dong (DD) begins with a smile and brief introduction but remains silent after we get into the van. The camp is just a short drive from Chiang Mai but long enough to knock out our new friends from Spain who'd been passing the time with practical jokes on each other and laughing through it all. They're ready to have some fun today and I think that's the consensus going around.
Thai Police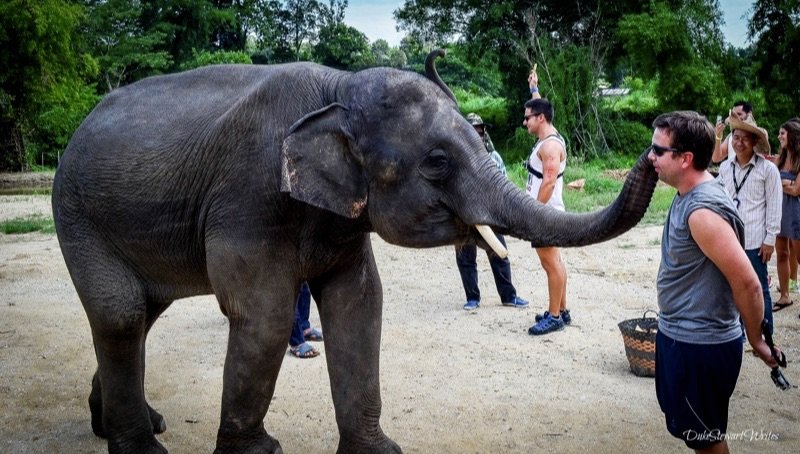 The mood changes as our van gets stopped by some police officers near the entrance. They hassle DD for a few minutes before letting us go through. Payment fixes that, of course. Elephant tourism camps are big money and the authorities know that always wanting their piece. DD explains that this happens quite often and especially since the Elephant Retirement Park is a newer operation. The van pulls into the camp and we can see a few elephants whose ears and tails are flopping around with anticipation for this day. Maybe they know that we're here to play or perhaps they're just used to living without the demands of putting on a show for tourists. DD explains that happy elephants have active ears and tails during our brief orientation at the top of the hill.
Background Info about Elephants

Before digging in and getting dirty, he gives us some background info about elephants and their place in Thailand. DD explains that elephants are a major symbol of Thai history and culture but these days their numbers continue to drop thanks to habitat destruction and a variety of other reasons. More recently, the Thai government banned elephants from being used in the timber industry and created a surplus of unused animals. Desperate measures led to the boom in Thailand's elephant tourism boom and eager visitors came calling. Numbers vary on just how many elephants there are in Thailand but DD notes about 3,500.
Revise that Bucket List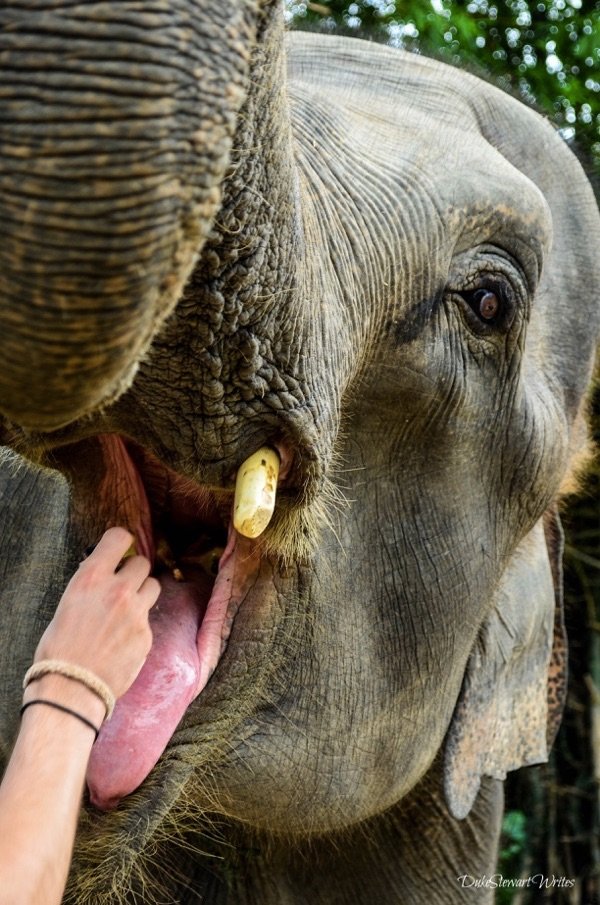 With so many elephant tourism parks throughout the country, it's easy to get sucked into the bucket list topper that this has become. Nearly everywhere one looks in Chiang Mai, signs advertise a day out with them as a truly educational experience. Learn to control them and see how they live every day! Says one poster. It's really hard to take sides on this because I know so many people who've ridden elephants. Honestly, I don't think you can blame every tourist for doing this but DD notes that there are countless riding camps because that's what a large majority of visitors want. He hopes that more visitors like us will come and spread the word about this type of elephant experience. Don't worry, my friend. At least I've got you covered.
Elephant Food Consumption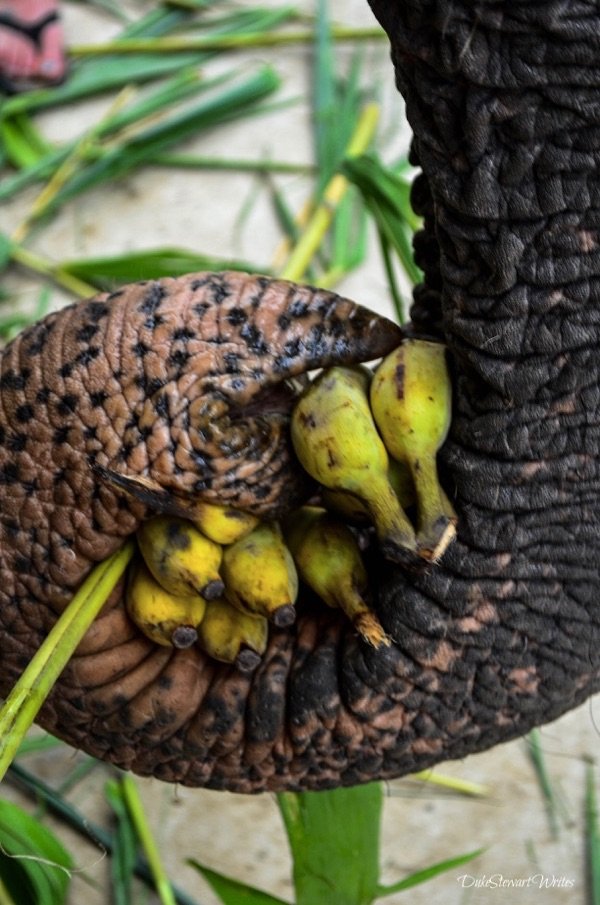 Being such massive creatures, I shouldn't be surprised at the numbers that DD throws out when talking about daily consumption. One full-grown elephant drinks 20 liters of water and eats 150-300 kilograms of food each day. I'm still trying to physically comprehend these figures. They teach us a few words that notify the elephants to open their mouths, hug, and kiss. All very valuable phrases and I quickly try to remember them, because it's time to go down and play with elephants. We watch one of the staff who's standing next to one and gripping a handful of sugarcane. Raise your hand, say bohn, and place your food-filled hands into their enormous mouths. Most of us cringe as the elephants grab their meal and slobber all over our hands in the process.
Elephant Command Words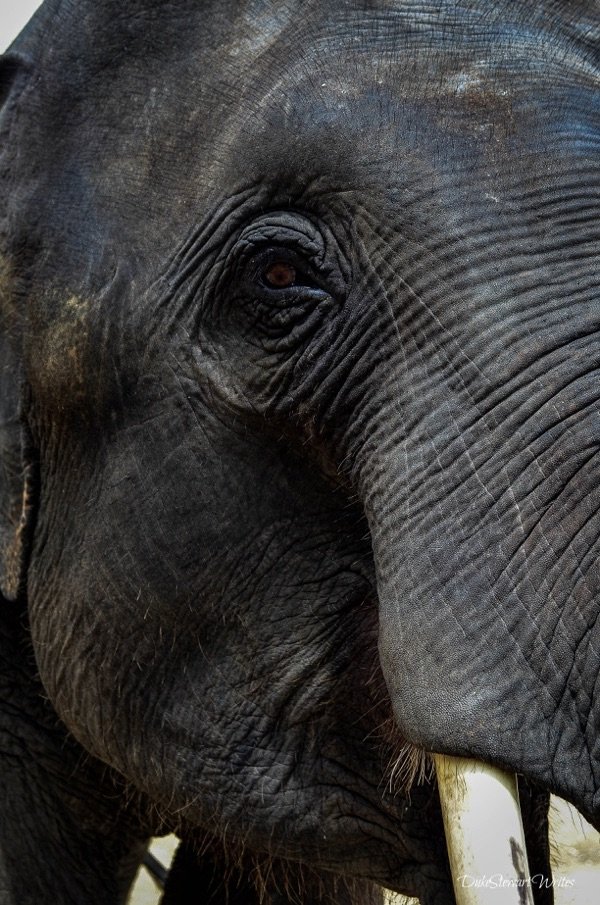 I stand there facing him with a handful of sugarcane and there he is with the appetite of 40 men. Honestly, I never expected to be standing in front of a retired elephant with nothing more than a handful of sugarcane but they say dreams can come true. I say bohn and his mouth opens, exposing a mouth similar to mine but just… bigger, much bigger. Timidly, I place the sugarcane inside his mouth and almost expect to lose my hand. It comes out fully intact but he wants more. Repeating the exercise until I'm out, the guides say goht and he gives me a massive hug with his trunk. I then hear joop and feel a huge suction against my cheek, as he's giving me a huge kiss. That feeling is so hard to describe but afterward, I have so much love and warmth for this beautiful creature.
The Perfect Day

I don't want this day to end but if it did right then, I'd have still been a very happy person. DD has other plans as he brings out a pile of clothes with instructions for us to put them on. Elephants not only drink copious amounts of water but also depend on it to provide sanctuary from the powerful sun. After changing and getting ready, the group heads down and sees a couple of elephants proceeding towards the water. There's very little more that I can say other than this being one of the most wonderful experiences in my life. We get dirty and watch the elephants play in the water like any normal person would on a hot day.
Volleys of Water, Bath Time!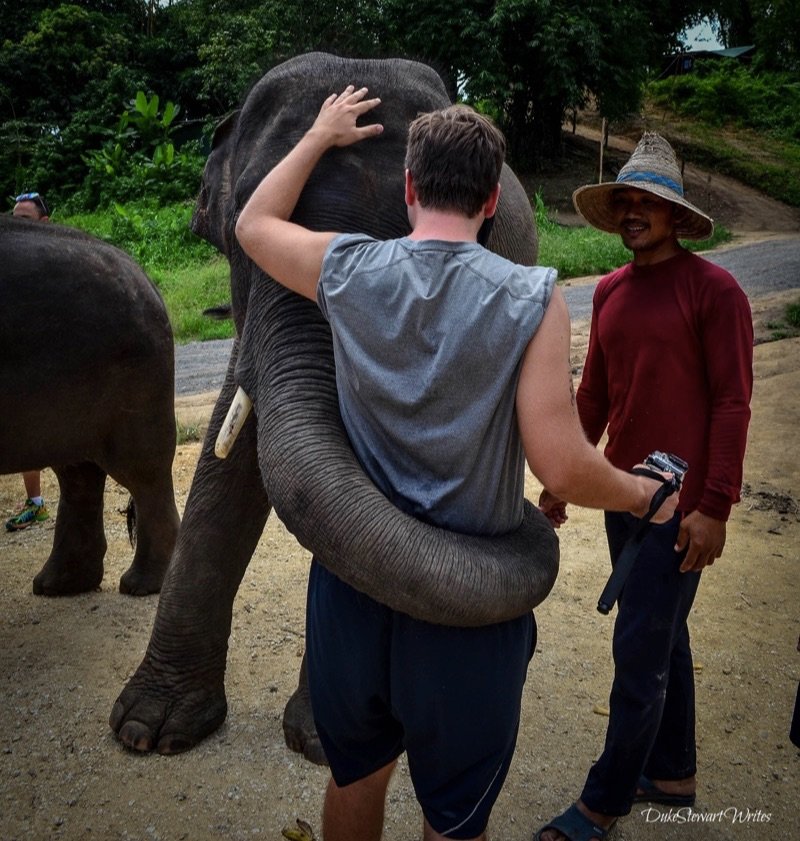 Volleys of water go between the elephants and us. Occasionally, one trumpets and reminds us of just another aspect to their beauty. We move to the mud for fresh coats to be applied as further protection from the sun and mosquitos. Generous helpings of mud fly around in all directions and sometimes, a few of us get carried away. Occasionally the elephants shake things up and splash mud in our faces. Another dip in the pool later and somehow, the day is almost over. We stand for pictures with our new friends and get a few more hugs and kisses. Before getting into the van to come home, one of the younger little giants stops by and says goodbye to us all, with his ears and tail happily flopping around.
Back in Chiang Mai, Thinking
.
Back in Chiang Mai and resting in our air-conditioned room, I can't stop thinking about this wonderful day with the elephants. In a rare show of emotion, I lose it and joyfully start to cry after reliving the day through the photos and videos we've captured. These elephants are just as wonderful as I'd hoped and we got to spend a day with them, on their terms. Images of floppy ears and open mouths waiting for sugarcane flood my mind. We'll never get to experience something like this again, I fear. This is something we'll tell our kid(s) about someday in the hopes that they'll want it too. There are days in my life when I've been this happy but not that many. I wonder if the poor treatment will continue inside Thailand's elephant tourism industry. Hopefully some day things will change.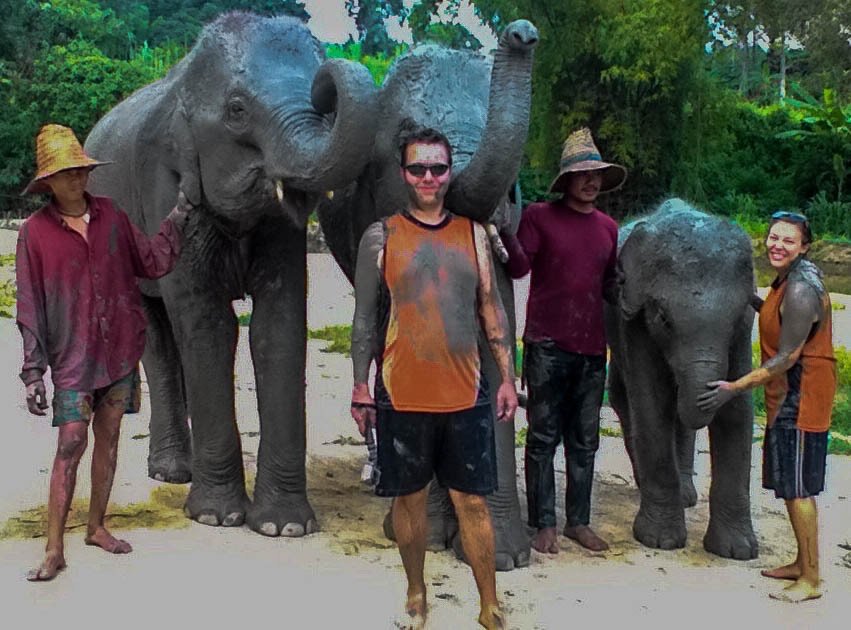 Then I remember that there was a time when riding an elephant was high on my own list. One day when we were staying in Koh Chang, a motorbike ride took us to an elephant camp as far as seeing them, with the hopes of catching a ride. At the time, we were clueless to elephant tourism and just wanted in on the fun that everyone raved about. Of course, that was until we pulled up and saw a grim picture: elephants tied up in cages and left alone. Before one of their keepers could reach us to pitch a tour, I drove away in disgust and cursed myself for coming so close to going through with it. Something told us to stop and it was then that my wife and I decided to pass on elephant riding.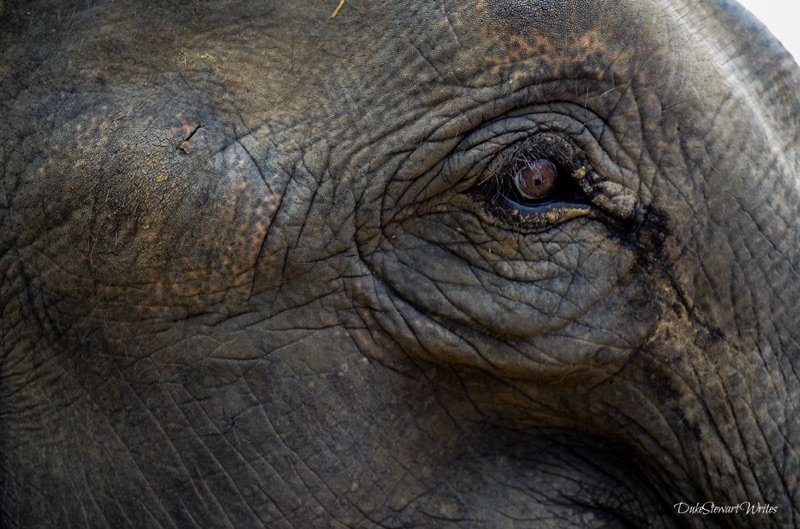 Thinking back to today, I realize DD's details of elephant riding's darker side. He shows us animals with broken feet and slumped backs. It's impossible that the elephants will forget about those scars but they can recover some spirit from time and care at this camp. Our experience today is a powerful statement explaining why places like the Elephant Retirement Park must survive. Visitors to Thailand and elsewhere in the world have to realize the damage that they're doing to the elephants. All this time I was holding back. I'm fighting tears of joy but also of sadness at the plight of many elephants living in Thailand. Just writing about our day with these retired elephants, I know that these animals didn't fare badly.
Do you want to visit the Elephant Retirement Park? What are your thoughts on this place? I'd love to hear them with a comment below:) 
Spread the Awareness! Share this post with your friends to show them there's a good side to elephant tourism in Thailand. 
The Elephant Retirement Park Info
I'll never brag that I knew better about the elephant riding industry. People can decide whether or not they want to ride the elephants. All I can do is tell everyone about this experience and hope they'll want more of the same. The Elephant Retirement Park does not allow riding and is currently one of only two camps that follow this practice. The more heralded Elephant Nature Park is the other. If you visit either and see that people are riding elephants, please let me know. I will definitely rethink whether or not this camp should be promoted.
How to enjoy Ethical Elephant Tourism in Chiang Mai
You can book online through either the Elephant Nature Park or Elephant Retirement Park websites but in Chiang Mai, most hotels will want you to book directly through them. They'll also offer a better deal and may have better intel. For example, whether or not the park will be too busy when you plan to visit.
Affiliate links linking to products we love may be found within this article. For more info, please check our
Disclosure page
for more explanation of affiliates and sponsorships.